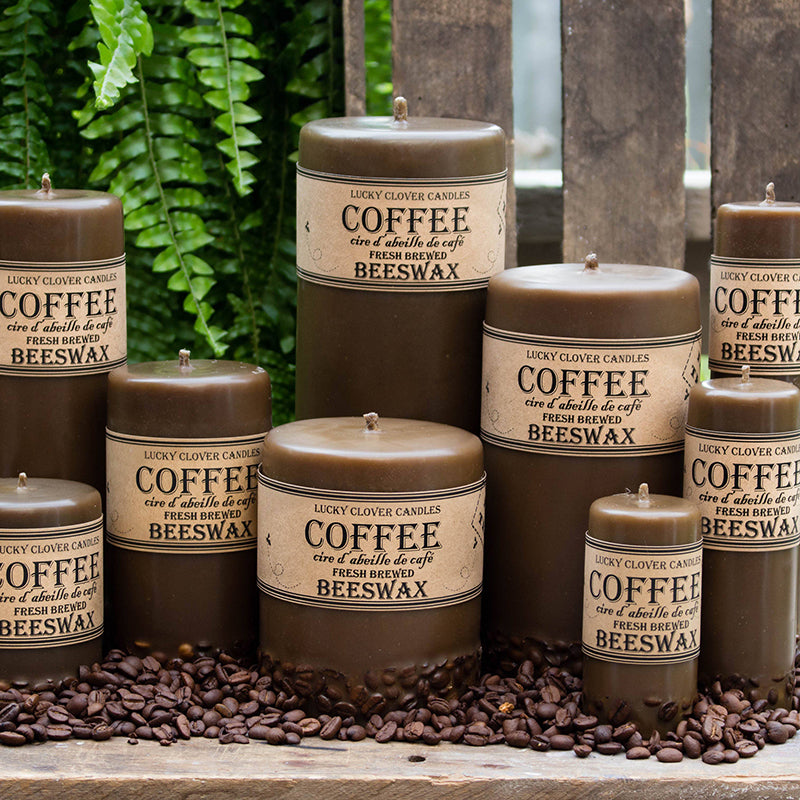 Coffee Beeswax Pillar Candles
Lucky Clover Coffee Beeswax Coffee Candles are 100% Pure Canadian Beeswax, fresh-brewed with the subtle natural scent and colour of locally roasted, Fair Trade Coffee!
Made in Canada.
INFO FOR BURNING BEESWAX CANDLES

While all candles do create some smoke by the very nature of fire, the following guidelines will help to keep this to a minimum:

Never leave a burning candle unattended

Keep the wick trimmed to 1/4 inch

Do not burn your candle all the way down

Use a metal tool (like an old pair of scissors) to straighten a curled or tilted wick

Extinguish Candle using a metal tool by pushing the wick into the melted wax pool (video example)

Always Burn on a heat resistant candle holder on a stable surface
LUCKY CLOVER BEESWAX CANDLE STORY

We are a family run Canadian Business!

Established in 2012, Our Lucky Clover Candles family (The Wilsons) create 100% Pure Canadian Beeswax Candles in our rural Canadian studio.  

Classic Beauty, Unique Style

Lucky Clover Candles are presented in both traditional dripped and smooth beeswax pillars, as well as Ali's Original creations: Beeswax Candles in Coffee, Chai, Lavender and Sage & Copal varieties!

Timeless methods

Lucky Clover Candles is passionate about applying traditional hand-made methods.  All of our beeswax candles are made with 100% Pure Canadian Beeswax that is sourced from responsible Canadian apiaries.  
Final sale, can not be returned.