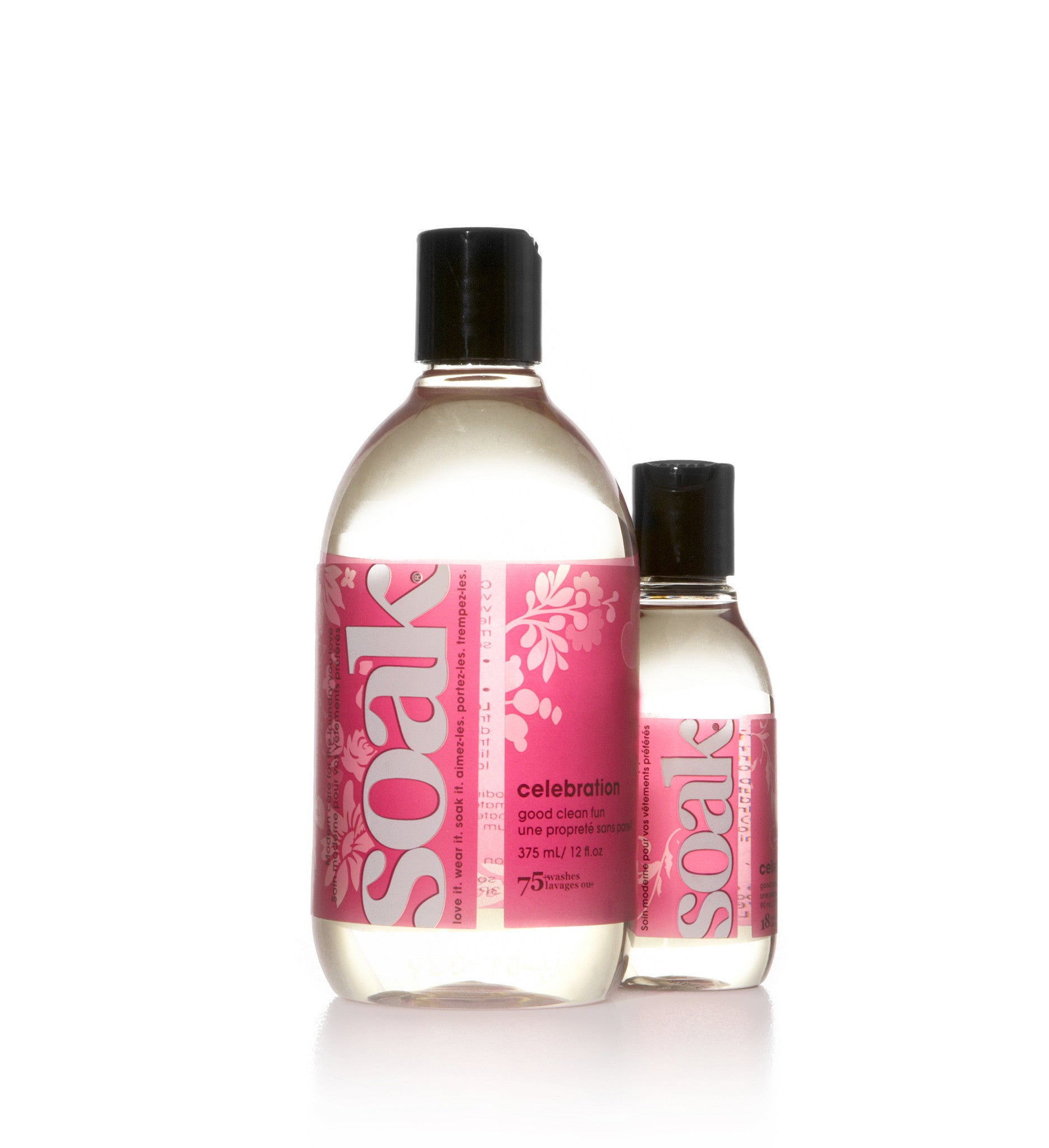 Soak is Modern Laundry Care, for the laundry you love. Soak comes in 4 delicious scents and Scentless, and 2 sizes to suit your washing needs. Soak Wash is great to use on your Sloomb wool! Though the bottle says it is a "no-rinse" wash, when using our wool for cloth diapering purposes, we recommend rinsing the wool under running water after washing. If using Soak Wash on wool that isn't used for cloth diapering purposes, and won't be lanolized, rinsing is not required. Soak products are manufactured in Toronto.
YUZU: Yuzu. It's the scent you've been waiting for. It's so lovely it's a bit silly. Pucker up and give your laundry some love with a kiss of tart citrus + crushed eucalyptus. You may notice Yuzu's unique and lovely label. This label collection is designed by the lovely and talented traditional fine art print maker Lizzy House. Collectible, indeed.
WILD MINT: Spicy geranium with a hint of mint and citrus smells like freedom from the day-to-day. Take a wash on the wild side with the bright, clean scent of Wild Mint.
PINEAPPLE GROVE: Be a pineapple. Stand Tall, wearing a lily filled crown, and always be sweet on the inside.

FIG: Fresh-picked clean. This scent is ripened with sweet fig and lychee, crowned by dandelions. Delicious. All the labels are designed by Joanna Figueroa, textile designer, author & owner of Fig Tree & Co, a quilt & sewing pattern company.
LACEY: 
Lacey is a material girl, soft and sweet. This modern scent combines spring blossoms with sweet bergamot creating a light yet alluring fragrance. One wash, and you'll fall in love with the modern, feminine fragrance. Invite her home and you'll never let her go. 
One wash, and you'll fall in love with the modern, feminine fragrance. Invite her home and you'll never let her go.
CELEBRATION:
Sweet, delicate and absolutely delicious, this perennial favourite smells like good, clean fun.
UNLEASH:
Infused with apple and pomegranate. Unleash your creative juices with a sweet and spicy scent you'd follow anywhere. Proceeds from every sale of Unleash will go directly to supporting Ravelry.
SCENTLESS:
Scentless keeps your hand-washables (and sensitive skin) clean and fragrance-free. 
What does clean smell like? For sensitive noses and those who aren't fans of fragrance, Scentless keeps your hand-washables (and sensitive skin) completely fragrance-free. It's a fresh and ultra-clear way to take care of the laundry you love most.
Soak has a strong belief in protecting the environment and we attempt to keep our policies in line with that.  Our bottles, caps and labels have always been recyclable but recently we've been working towards moving all of our bottles to PCR (100% post consumer resin).  By the autumn of 2013, all of our bottles will be made from post-consumer resin, meaning they'll have already been recycled once through the system.  Let's keep it going; please don't forget to throw it into your blue bin when it's empty!
Soak Ingredients:
The ingredients are listed on every bottle. All our formulations are the same except for scentless, which doesn't include fragrance.
aqua, coco-glucoside, sodium cocamphoacetate, lauryl glucoside, glycerin, sodium cocoyl glutamate, sodium lauryl glucose carboxylate, glyceryl oleate, PEG-7 glyceryl cocoate, parfum, propanediol, ethylhexyl glyercin, potassium sorbate, tetrasodium EDTA, benzophenone-4, citric acid
What is no rinse, exactly?
No-rinse means just that. You don't have to rinse it – really. Because Soak is a low-suds liquid, the dirt and detergent come out in the water and whatever is left in the item evaporates. When you squeeze out the water, all that's left behind is a hint of fragrance that dissipates over time. You can rinse if you want, but rinsing won't affect how Soak cleans. It just removes the fragrances. Because no-rinse requires less agitation, it's easier on fabrics. Plus, the process uses less water, which is good for the planet.
Is hand washing hard?
No. It's actually remarkably easy – all it takes is a quick Soak. Soon you'll want to hand wash all your delicates. In fact, we have a whole bunch of customers who have stopped taking their stuff to the dry cleaner and Soak it instead – because it's easier. Be sure to check the fabric content and care instructions before soaking any "Dry Clean" labeled garments.
How do I test for color fastness?
Rub a bit of the wash product on an inconspicuous part of the garment, and rinse after two minutes. If there's no bleeding you're good to go.
Is Soak organic?
No. However, it is environmentally friendly, biodegradable and the bottles are recyclable and printed with water-based inks. Organic and all-natural products tend to need to be refrigerated and have short shelf lives; Soak is a stable product that will not fog or separate over time.