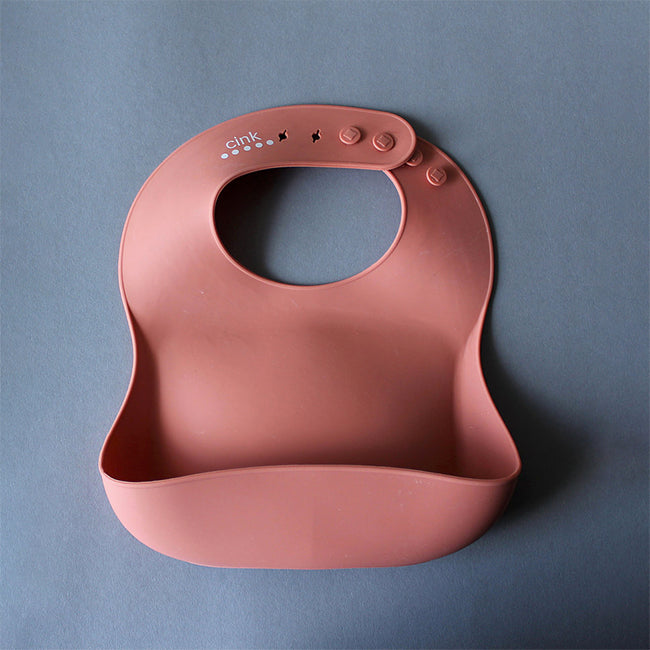 Our new addition to the Cink family- The Cink silicone bib!
In five signature colors this bib complements CINK dinnerware perfectly. Just when you thought your meals couldn't get any prettier!
CINK bibs are made of a soft and comfy silicone that doesn't leave any red marks on your little one's neck. The silicone is of course BPA, PVC and phthalate free and can be recycled.
It has a deep, sturdy spill pocket that makes it almost impossible for the food to find it's way to the floor. 
Enjoy your meals!
Material: 100% silicone
BPA, PVC and Phthalates free
Food safe approved in accordance with EU Framwork Regulation (EC) No 1935/2004 and LFGB and The U.S. Food and Drug Administration (FDA)
Wash by hand or in the dishwasher
Please note: Cink bamboo dinnerware in the picture is not included
Final sale, can not be returned or exchanged.
CINK was created to provide stylish and environmentally friendly  dinnerware for your baby, toddler or child. With a palette of 5 gender neutral colors, it perfectly complements the modern home and is suited to all ages in your family.
Our products are made from organic bamboo, recycled from the waste created in bamboo chop sticks production. Blended with GMO- free corn starch and a 100% food-grade melamine binder, CINK offers especially durable and hard-wearing dinnerware sets resistant to knocks and bumps. We work with a small factory in China which we have a close contact with.
Our products are coloured only with water-based, food-proof colour pigments and unlike traditional melamine products CINK are not coated with any surface treatments.
CINK offers a holistically and environmentally conscious series of products that include packaging made from recycled material.
Use your CINKs however you want! For your baby, your toddler or your older children, for weekend picnics or to snuggle up in the sofa with a cup of tea and some snacks.
All our products have been tested and are food safe in accordance with Regulation (EC) No 1935/2004 as well as for The U.S. Food and Drug Administration (FDA).
We hope that you will enjoy your CINKs!