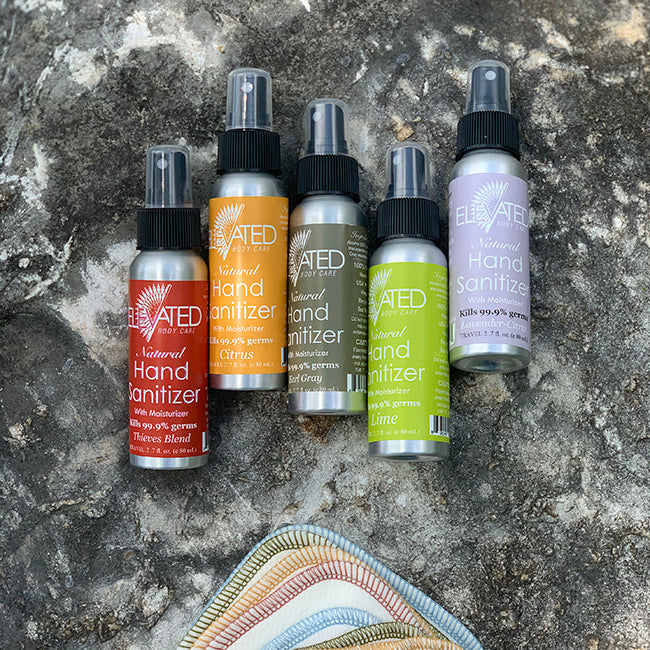 Elevated Natural Hand Sanitizer
From Elevated:
Blended with one of our favorite Hawaiian oils, this sanitizer moisturizes and leaves hands feeling silky smooth! Effectively defends against 99.9% germs (and ONLY the bad ones)!
SUPER easy and safe for little hands too! Smells fantastic! Choose between our original lavender-citrus scent, Earl Gray Tea, Thieves, or Lime!  A MUST for travel, schools, flu season and more!

We loathed Hand Sanitizers, but had such a high demand for one that we formulated a perfect hand santizer that doesn't feel like it dries out your hands and doesn't kill the "good germs!" We like to keep our natural antibodies on our hands!

Elevated Natural Hand Sanitizer
Fast.Easy.Effective.

Protects against 99.9% germs
Leaves hands silky smooth!
Choose Between 4 different scents & the following 2 sizes:

2.7oz / 80mL Recycled Aluminum w/ spray - convenient travel size spray perfect for the plane
4oz / 120mL Recycled Aluminum w/ spray - Great option for around town or in the bag

Organic and Natural, Hand Made in the USA
Perfect for backpacks, diaper bags, purses, gym bags, restaurants, public restrooms, airports, airplanes, travel, cruise ships, grocery stores, diaper changes, children's hands, and more!
Naturally Defend during SICK/COLD season!
Vegan
Quality, Inexpensive GIFT!
Comes in Recycled Aluminum or Glass!  (Sustainable packaging)
Cruelty Free (Ingredients and finished products NOT tested on animals)


Use On: Those dirty, germy hands! And any other dirty stuff! For sanitizing objects, check out ELEVATED SANITIZE IT! Which is a GREAT household sanitizer, and contains no oils.
*These statements have not been evaluated by the Food and Drug Administration. This product is not intended to diagnose, treat, cure, or prevent any disease.

Ingredients: Organic: 62% ethanol, virgin, raw macadamia nut oil**, and proprietary essential oil blend (blend depends on scent chosen).