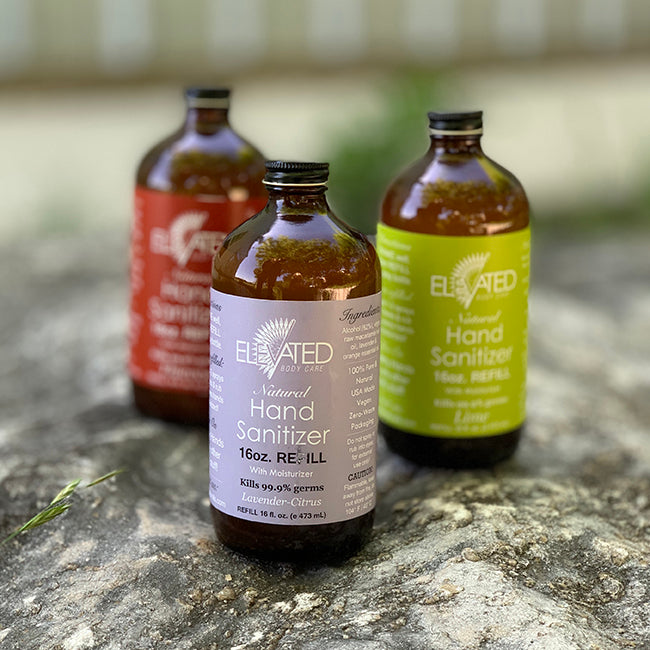 Elevated Natural Hand Sanitizer - Refill Bottles
Elevated Natural Hand Sanitizer
Fast.Easy.Effective.

Effectively defends against 99.9% germs PLUS
Leaves hands silky smooth!
All Refills are PLASTIC-FREE / ZERO-Waste! They come in Glass, and have a metal cap (NO sprays) – Use to REFILL your own sprayer, or one of our 2oz, 2.7oz, or 4oz Sprayers

Available in 2 sizes:
8oz – Amber Glass Boston Round
16oz – Amber Glass Boston Round

Organic and Natural, Hand Made in the USA
Perfect for backpacks, diaper bags, purses, airports / airplanes, travel, grocery stores, gas stations, restaurants, public restrooms, diaper changes, baby, children's hands, and more!
Naturally Defend during SICK/COLD season!
Vegan & Cruelty Free (Ingredients and finished products NOT tested on animals)
Quality, Inexpensive GIFT!

Use On: Those dirty, germy hands! And any other dirty stuff! For sanitizing objects, check out BALM! Baby SANITIZE IT! Which is a GREAT household sanitizer, and contains no oils.

Directions:
SHAKE WELL, then refill your spray bottle
*These statements have not been evaluated by the Food and Drug Administration. This product is not intended to diagnose, treat, cure, or prevent any disease.

Ingredients: Organic: 62% ethanol, virgin, raw macadamia nut oil**, and proprietary essential oil blend (blend depends on scent chosen).