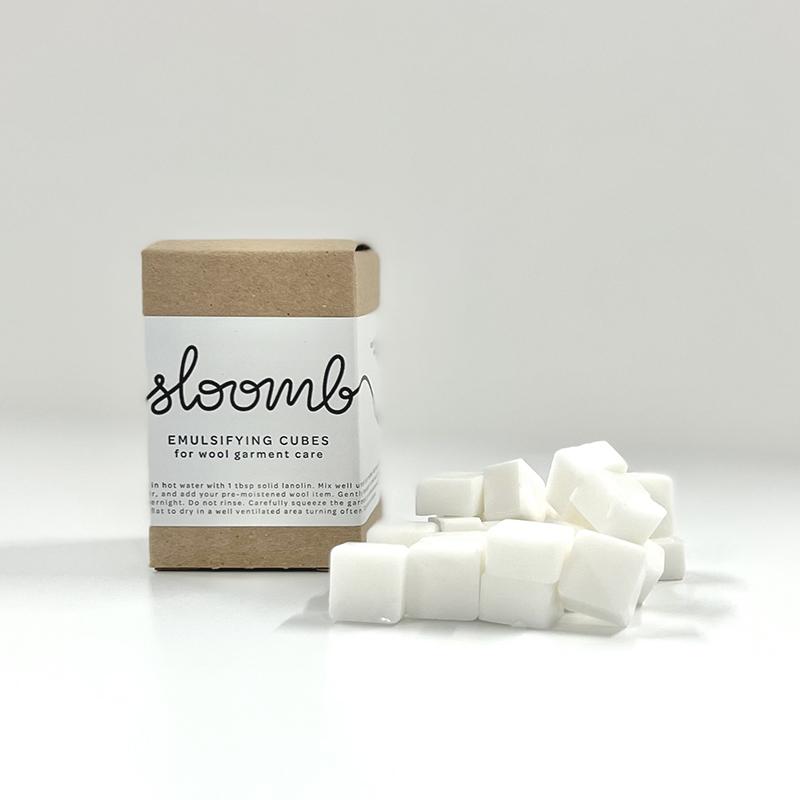 Seasonal Sloomb Emulsifying Cubes
Emulsifying cubes make lanolizing wool easier when using solid lanoin. Seasonal/Holiday scents are a limited offering, available for the fall/winter season only.
Directions: melt 1 cube in a cup of hot water with up to 1 tbsp solid lanolin. Mix well until fully melted and your mixture is milky and emulsified, then follow basic lanolizing steps. Double the amounts as needed for more items. 
To use as a wash only cube: Melt a cube or two in hot water and add to a warm water bath. Gently squeeze woolies to cleanse the fibers and spot clean where needed with another cube or wool wash.
Bee Green Naturals emulsifying cubes are now made by the Sloomb team. This is the same recipe developed and entrusted to us by Jennifer of Bee Green Naturals.
Made with mild soap and oils. Contains no lanolin. Approximately 25 cubes. 
For wool garment care only. 

Scented emulsifying cubes are a great way to add fragrance to your wool. 
Cube color varies depending on the oils and vanilla content, ranging from yellow to dark amber.
WINTER FIG FO+EO: cranberries, dried figs, winter spices 
TANNENBAUM FO: singing carols by the tree
SUGARPLUM FAERIE FO: sugared fruit, winter spices, eucalyptus
SOLSTICE EO: fir needle and orange
POMANDER FO: orange, cinnamon, and cloves 
CINNAMON ROLL FO: deliciously warm, iced cinnamon rolls
AUTUMN FO: mulled spice & forest walks.